Tiburon Ferry (one way)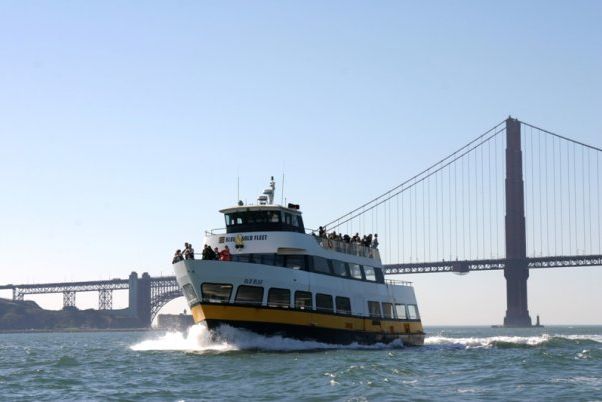 TOUR DESCRIPTION
Tiburon is located across The Bay from San Francisco. Take a ferry ride from The City and explore this beautiful town and its classic Main Street.
Pier 41 to Tiburon transport
Return ticket
Gratuity
Important Information
Starts
Schedule
Sat-Sun & Holidays
Departs Pier 41: 11:10am, 1:05pm, 2:15pm, 3:35pm, 4:50pm, 7:15pm
Departs Tiburon: 12:30pm, 2:05pm, 3:30pm, 4:35pm, 5:30pm, 8:20pm
*No 7:15pm departure on New Year's day (Jan 1,2020)
Summer Box Office Hours
Winter Box Office Hours
Mon.-Fri. 9:00 am to 4:00 pm Sat. & Sun. 9:00 am to 4:30 pm
Schedule
Mon-Fri (Effective Aug 19-Nov 3)
Departs Pier 41: 9:45am, 11:20am, 1:15pm, 3:05pm, 4:55pm, 7:15pm
Departs Tiburon: 10:40am, 12:15pm, 2:10pm, 4:00pm, 5:55pm, 8:00pm
Only FRI (Effective Nov 4-Apr 26,2020)
Same as above
MORE INFORMATION
Take the Blue & Gold Fleet Tiburon Ferry for a memorable and relaxing time. Tiburon is a former railroad town that was the terminus of the Northwestern Pacific Railroad until 1963. Since then, it has been transformed into a charming seacoast village.
Tiburon's classic main street offers antique, wine, specialty shops and more. Bring your bike along and leisurely tour the shoreline paths or physically challenge yourself by hiking nearby Mt. Tamalpais.
Click for schedule