The Flyer & 7D Experience: Everyone over 40 inches can ride
Triple Play (Flyer+7D+Lazer Maze)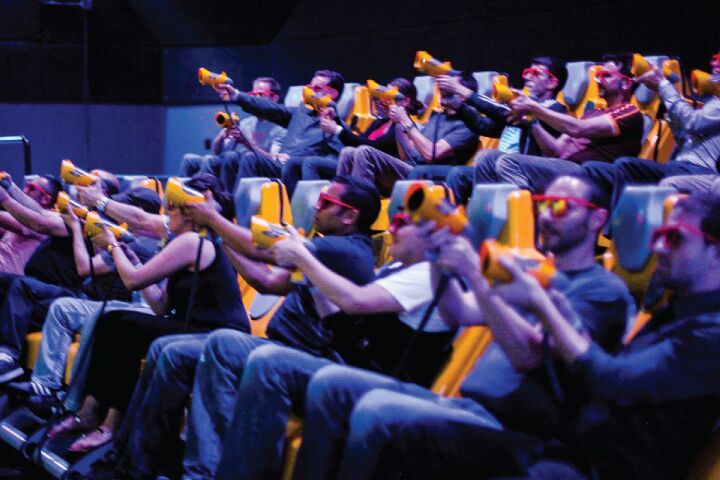 Important Information
Location
The Flyer: East side of the Pier39 Entrance Plaza (Fl. 2)
7D Experience: Pier 39 (building M-1)
Duration
The Flyer: Approximately 20 mins
7D Experience and Maze combo: Approximately 5 mins DarkRide
Hours of Operation
The Flyer: 10am-9pm Daily
7D Experience: 10am-9pm Daily (11:00 am - 7:00 pm on major holidays)
MORE INFORMATION
The Flyer
Discover San Francisco's biggest landmarks and attractions in this awe-inspiring 3D-movie adventure that has you flying with your feet dangling over the City by the Bay!
28- seat flying theater, massive movie screen and the newest 3D technology will allow you to discover San Francisco like never before.
This thrilling experience is great for all ages offers a stunning introduction to San Francisco.
A great visual experience for foreign - language speakers - no English skills needed.
7D Experience
Strap yourself into a seat before a massive movie screen and compete in a laser blasting game complete with state-of-the-art technology that will make you feel as though you are on a roller coaster! Blast your way through a post-apocalyptic wasteland, face off with menacing robots, or challenge werewolves and mutants in a game against your comrades in the 20-seat theater. All of the game choices offer chills and thrills with ultra cool graphics.
Lazer Maze Challenge
In the Lazer Challenge, you will stretch, bend, crawl and jump your way through a web of laser beams while being cheered on by onlookers watching live screens.