REDWOODS OF CALIFORNIA
Muir Woods Tour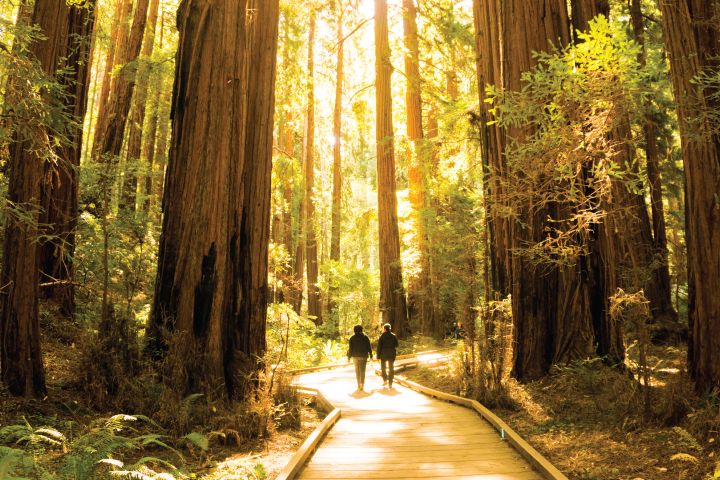 TOUR DESCRIPTION
Experience the awe and wonder of one of California's oldest redwood groves as you stroll through dedicated paths of 1000-year-old redwood trees.
- Guided tour to Muir woods and Sausalito
- Entrance fees to Muir woods
- Ferry ride back from Sausalito
- Food & Beverages
- Souvenirs
- Tips & Gratuities
- Hotel Pick up or drop off
Important Information
Starting location
Duration
What should I wear?
Please dress in layers as it can be cold in the woods
Know before you go
Please bring your voucher to 2724 Taylor Street, Suite B. Please arrive at least 20 mins prior to departure time and present your printed voucher to the driver.
Shuttle from Union Square office (near stop 7) at 8:15am only for the 9am departure
Cancellation Policy
Free cancellation upto 24 hours to the departure date
MORE INFORMATION
Overview:
Your tour starts at Fisherman's wharf with a knowledgeable guide. You will drive over the iconic Golden Gate Bridge. Enjoy stunning views of San Francisco Bay and capture the unique structural details of this remarkable bridge, renowned for its international orange color.
Once you arrive at Muir Woods , you will have 1.5 hours to self-explore the gentle walking trails within the national park. You can grab a map of the various walking trails at the Visitor Center. Stroll through the tranquil forest to see California's coastal redwoods, the tallest living things on earth. See redwoods that are more than 250 feet tall and more than 800 years old in one of the last remaining stands of old-growth coastal redwood forest, sustained by temperate marine fog.
Afterwards, you will take a scenic drive through the coastal mountains on the Marin Headlands and Sausalito. Enjoy sweeping views of the San Francisco Skyline and the Pacific Coast from Sausalito. You can decide to get off at Sausalito shoudl you like to spend more time there at your leisure. You can buy ferry tickets (not included), to return back to Fisherman's wharf in San Francisco.