Grgich Winery Tour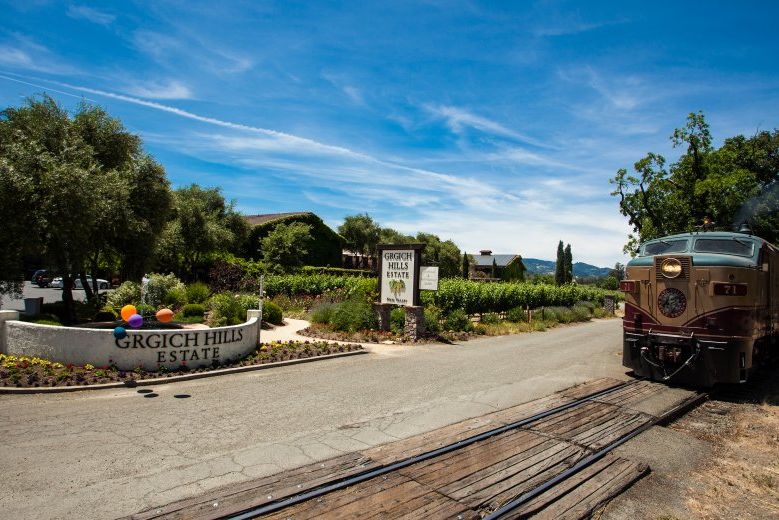 TOUR DESCRIPTION
Taste the wine that put Napa Valley on the map and get the inside track to a true Napa Valley legend. The winery itself is simple, quaint, and charming. But it's one of the Napa Valley's most famous stories. If you haven't heard of the 1976 Paris Tasting, you soon will. After a gourmet lunch aboard our elegant Wine Train, indulge in a private tour and tasting at Grgich Hills Estate, home of one of the greatest winemakers in the world.
2 hour train journey
Multiple course Gourmet lunch
1-hour tour and tasting at Grgich Hills Estate
Tips & Gratuities
Transportation to and from Napa valley train station
Important Information
Starting point
Napa Valley Train Station in downtown Napa
Departs
Train departs at 11:30am. Check in at 10:30am.
Requirements
No smoking. Strollers and carriers are not permitted onboard, but booster seats are available. Diaper changing is not permitted in the railcars due to food service and the bathrooms are somewhat small.
Age 21 and above
What to wear?
We do not have an enforced dress code. Dinner can be dressier; some guests prefer cocktail party attire. Jackets are suggested on cool nights, but not required. It is always a good idea to bring an extra layer to make sure you are warm enough, we encourage our guests to dress for the occasion.
MORE INFORMATION
Your tour begins with an elegant tranquil train journey northbound through the spectacular Napa Valley aboard our intimate luxury rail car where your gourmet lunch awaits. Soup du Jour or fresh Baby Lettuce Salad. And your choice of gourmet entrées.
Croatian-born founder and winemaker Miljenko "Mike" Grgich is the man behind Grgich Hills Estate. He's also renowned for his role in the 1976 Paris Tasting, a blind tasting of renowned white Burgundies from France and a sampling of new Napa Valley Chardonnays. Shocked French judges selected Mike Grgich's 1973 Chateau Montelena Chardonnay as the finest white wine in the world, making him a legend. Today Grgich Hills is known for producing world-class wines sustainably, with care and passion.
Go on a private behind-the-scenes tour of the Grgich cellar and production. Surrounded by oak barrels and the enticing aromas of wine at various stages of its journey, get an exclusive taste of a variety of Grgich Hills wines. Explore the beautiful outdoor patio and overlook the legendary terroir that took the wine world by storm. Grgich is still very much involved at the winery and vineyard. With any luck, you just might meet this sprightly and charming legend in person.
A legendary tour and then, a special treat is waiting for you back on board the Train: coffee or tea and a decadent dessert. Savored at your leisure in luxury, as you head through the Napa Valley back to Napa.
*All of our winery tours require moderate stair climbing and standing for extended periods. We encourage guests who may have difficulty performing these two activities to consider one of our dining journeys. In the spirit of traditional rail seating, you may share a table with another party.
Schedule:
10:30am Check in
10:50am Board the train and Meal service begins
11:30am Train departs and you begin enjoying your meal
12:30pm Arrive at Grgich Hills Estate
1:30pm Reboard the train. Dessert and coffee service begins
2:30pm Arrive at Napa Valley train station